Timeline
Our Company History
40 Years of Excellence
1970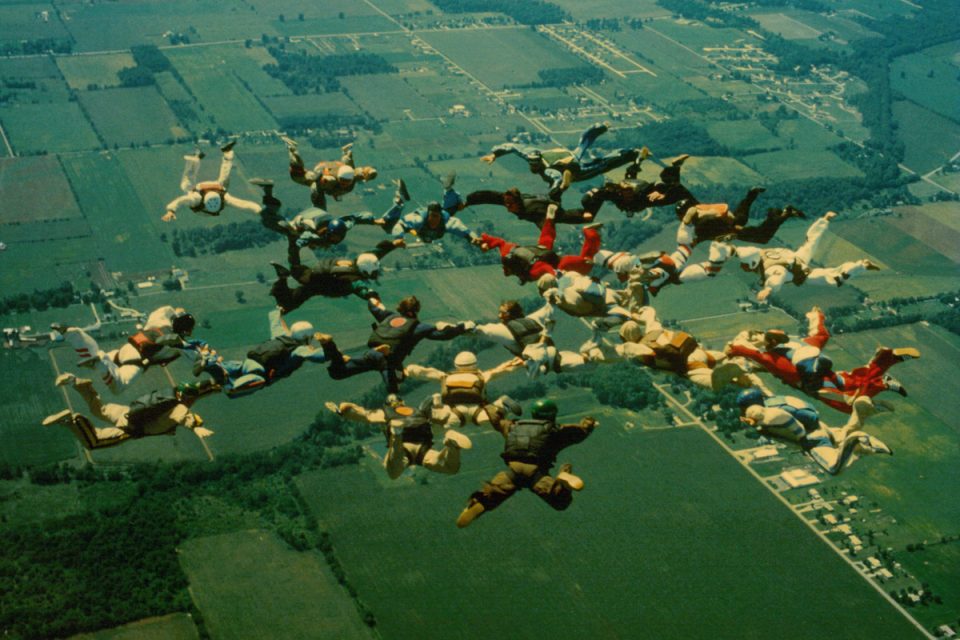 Working for the Weekend
Friends Steve Stewart, Cliff Schmucker, and Jerry Kautz spend every available moment jumping at Waynesville Skydiving (now Skydive Cincinnati) – a mid-sized dropzone owned by Steve.  Photo taken by Cliff.
1983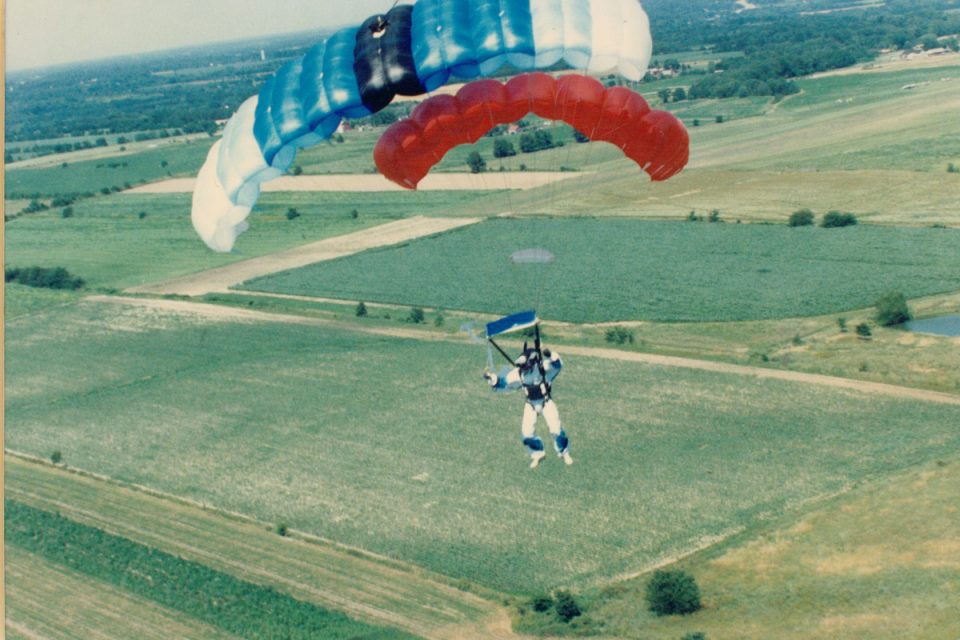 SSK is Born
Engineers by trade, the friends start tinkering with a 2-pin, piggy-back container fashioned by Steve that eliminates the need to wear two separate parachutes. Together, they elevate Steve's invention into a modern, 1-pin system affectionately called the Sweethog, and revolutionize the sport. They form SSK Industries, Inc. and begin manufacturing the Sweethog – and innovating on its design – from a little shack on the DZ.  Photo: Cliff with a 2-out.
1984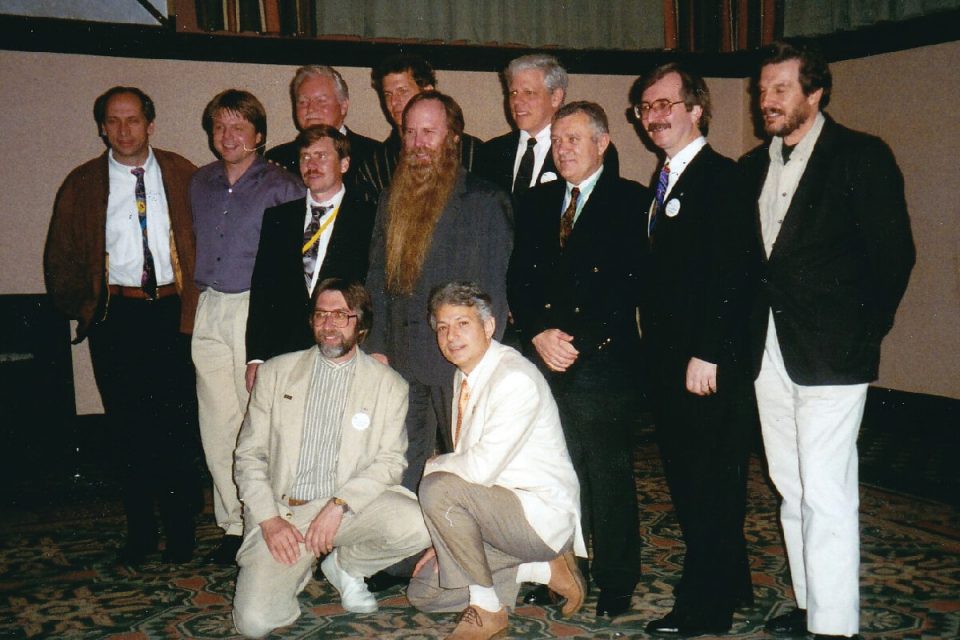 SSK Joins PIA
SSK becomes a member of PIA (Parachute Industry Association), known at the time as PEIA (Parachute Equipment Industry Association).  Photo: Industry legends at the '95 Symposium in Houston.
1987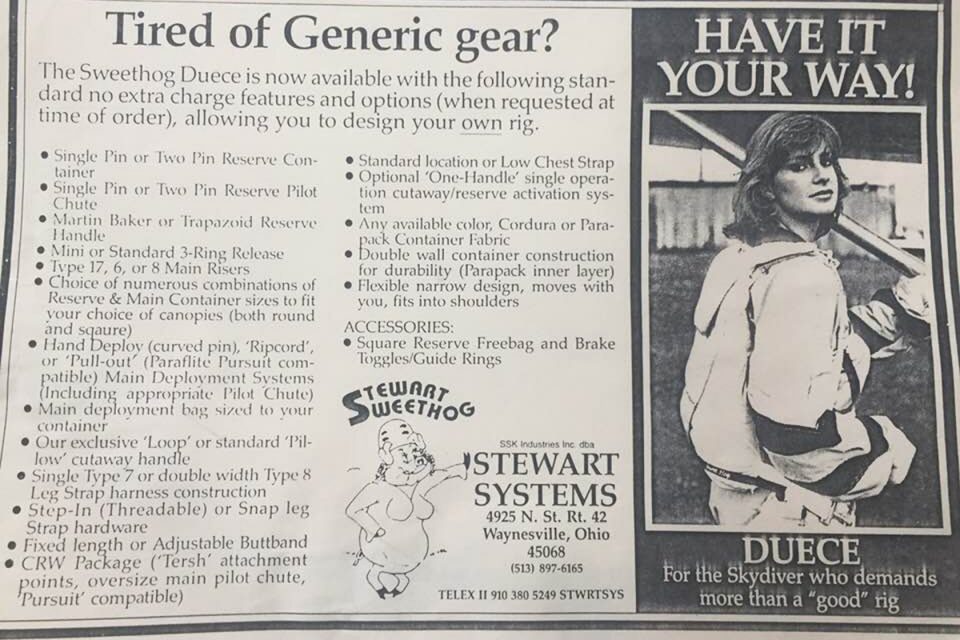 The End of Generic Gear
SSK introduces the first major iteration of the Sweethog, the "Extra Narrow", designed for smaller-framed skydivers. Not only is the Sweethog XN the first rig of its kind with this design modification, but it's also the model other rig manufacturers adopt as a standard.
1991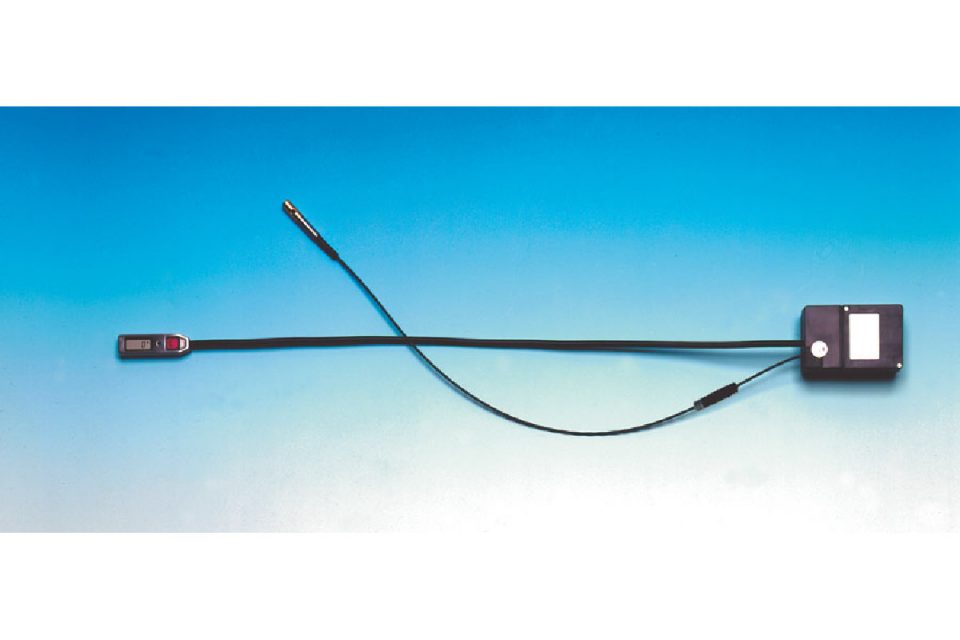 A Reliable AAD
In the late 80s, Helmut Cloth invents the "Cybernetic Parachute Release System," a reliable, electronic automatic activation device (AAD), and establishes Airtec GmbH & Co. KG Safety Systems.
After years of R&D, in 1991 German-based Airtec sells the first CYPRES and in 1992 he presents the CYPRES at a PIA meeting. Helmut and Cliff are immediate peers. Cliff's long-standing passion for electronics, electrical engineering degree, career in the biomedical field – and, of course, his work on the Sweethog – enables him to see the enormous potential and importance of Helmut's vision.
1993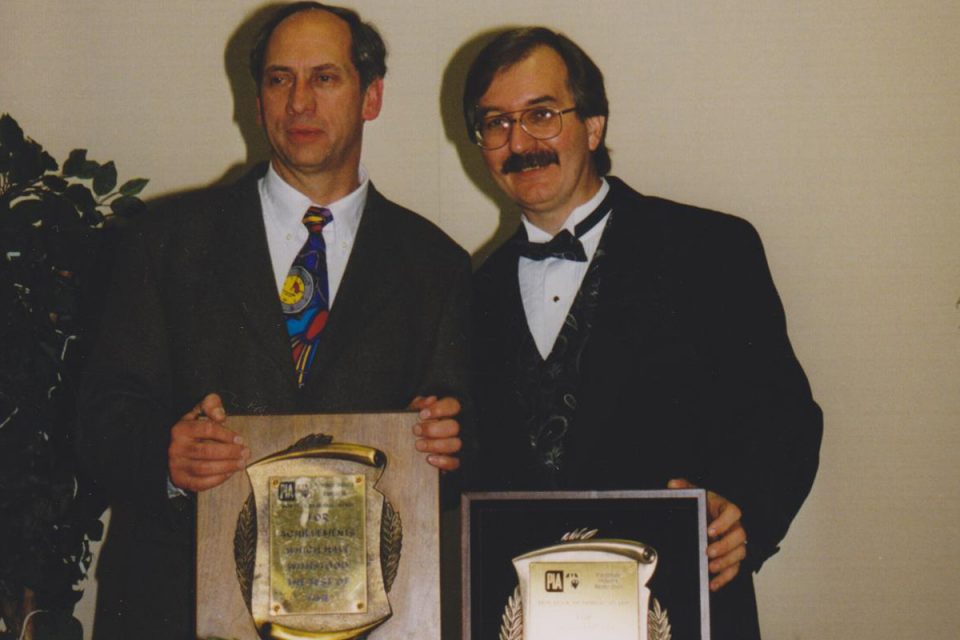 SSK & Airtec Partner
Within six months (despite Helmut not actively looking for a US collaborator), SSK is invited to become Airtec's mission-driven partner. The founders' shared commitment to safety enhancements, efficiency, and innovation in skydiving tech makes collaboration not only ideal, but also mutually beneficial.
In 1993, SSK becomes the US-based CYPRES Service Center for the CYPRES AAD. To validate Airtec's claims, SSK performs a series of CYPRES tests in a chamber, mannequin drop tests, and live test jumps featuring increased activation altitude and intentional activation of the CYPRES and initiation of the canopy deployment sequence. Our tests show that the CYPRES works exactly as described.
Later, Cliff and Airtec's Gerard Fetter perform live demos at skydiving boogies where they are pulled out of a 16-way formation at 4,000 feet for others to witness.  Photo: Helmut and Cliff
1994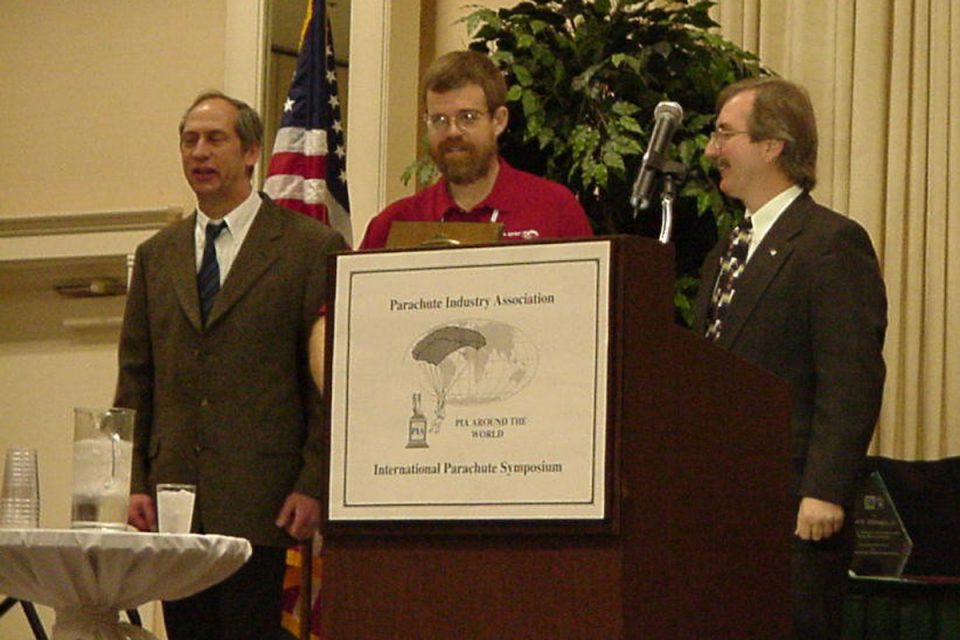 Cliff for President
Cliff Schmucker is elected as President of PIA and serves in this role for nearly 20 years, until 2013.  Photo: Helmut and Cliff at 2001 Symposium.
1997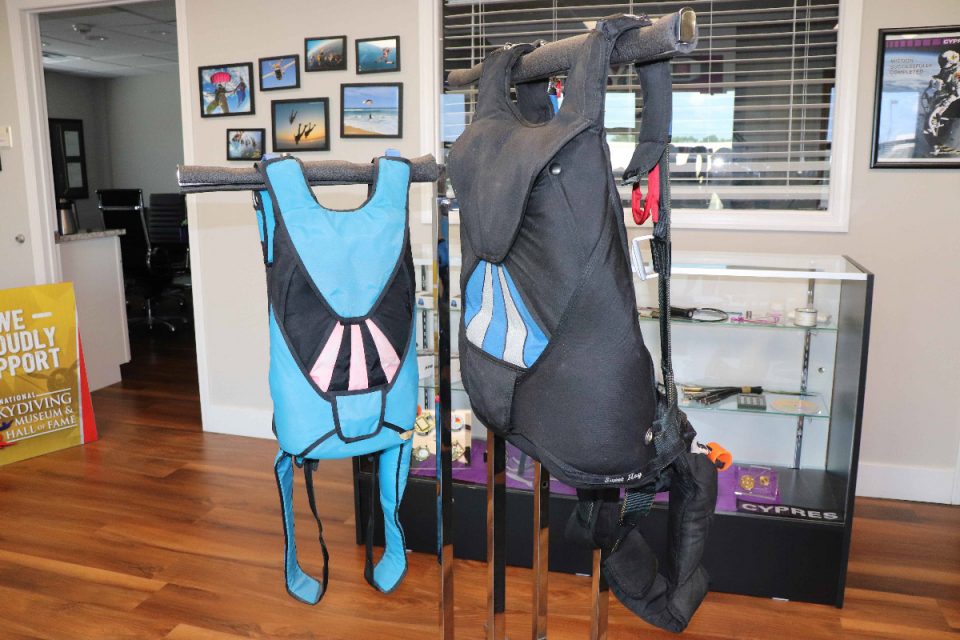 Sweethog Retired
SSK retires the Sweethog to focus on the growing popularity of the CYPRES. Around this time, SSK becomes responsible for servicing CYPRES units not only for the US, but also for other countries within the Western Hemisphere.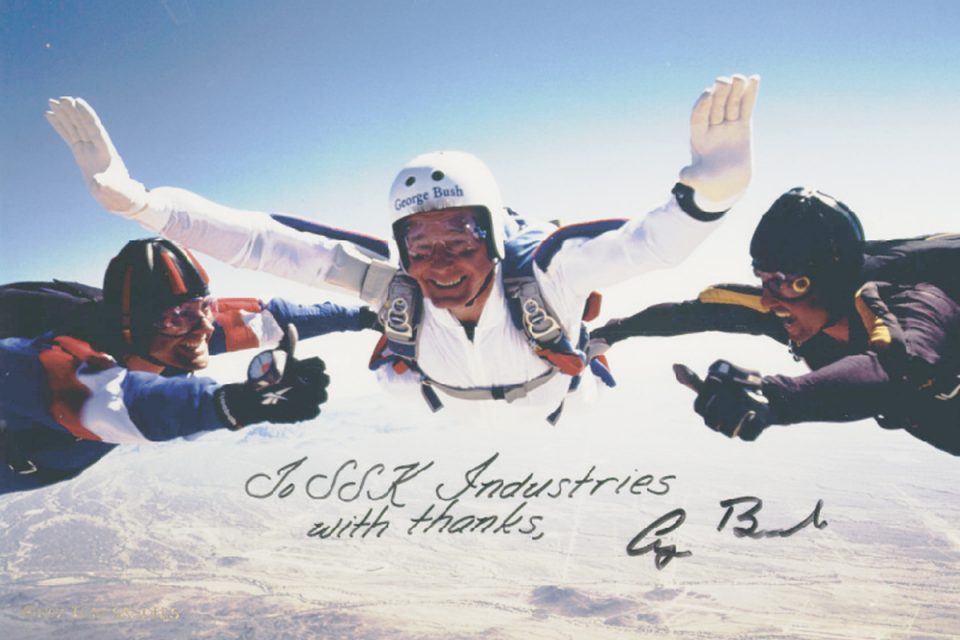 President Bush Skydives
Cliff assembles and packs the main and reserve canopies for President George H.W. Bush's AFF skydive at Yuma Proving Ground in Arizona.
1999
SSK & STI Partner
SSK begins working with STI (Systems Technology, Inc.) on PARASIM; a virtual reality parachute simulator that enables use of a variety of canopies with realistic input and response, and initiates malfunctions for emergency procedure training. STI owns PARASIM and produces the software, while SSK manufactures hardware components and a variety of prototype frames for the hanging harness.
2003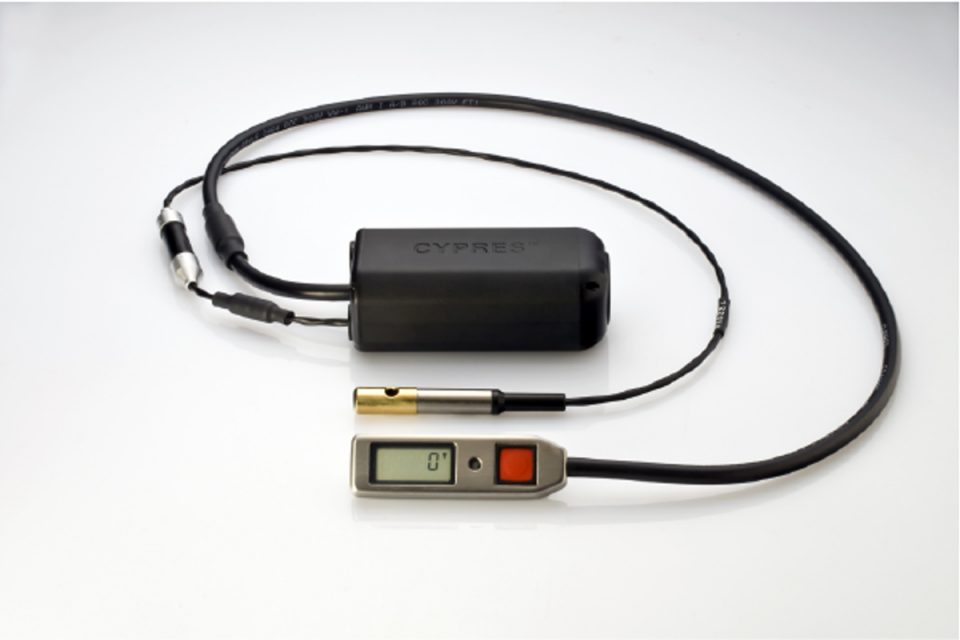 CYPRES-2 Released
The CYPRES-2 is released with improved features – it's waterproof, no longer requires battery changes at the user level, and it weighs less. By now, a variety of other CYPRES models have been developed too. The Smokejumper CYPRES is specifically designed for the US Forest Service and Bureau of Land Management (BLM) smokejumpers, and the Aircrew CYPRES for pilots and aircrew passengers.
SSK Military Industries Formed
The US Military approves the CYPRES for use after several years of collaborative testing with SSK, and the Army, Navy, Marines, and Air Force adopt use of the CYPRES.
SSK Military Industries, Inc. is formed to facilitate CYPRES sales, service, and support for the US Military. At this time, SSK Military also becomes a member of PIA.
2007
SSK & LB Partner
SSK begins working with LB Altimeters  primarily on the Military side by promoting the Military ALTITRACK and providing support. Involvement with LB grows in years to follow.
2010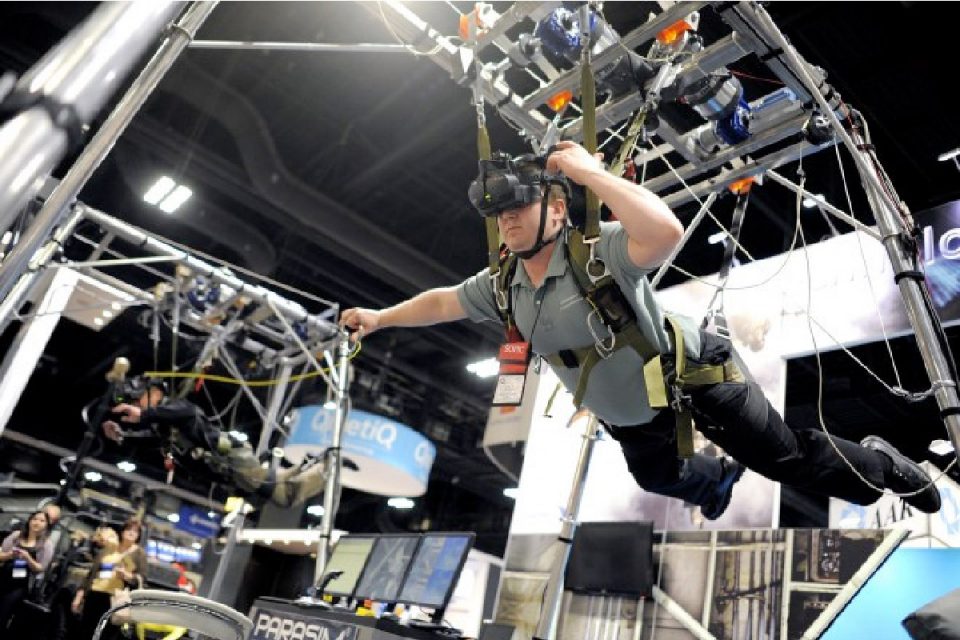 SSK Manufactures the MHSF
SSK begins manufacturing STI's Motorized Horizontal Start Frame (MHSF), a motorized frame that lifts the jumper into a horizontal, freefall position and then releases to a vertical position once under canopy. The frame also supports training associated with high- and low-speed canopy malfunctions. Nathan Schmucker, Cliff's eldest son and himself an engineer, oversees the manufacture of the MHSF, as well as the affiliated sensors and miscellaneous electronics.
2013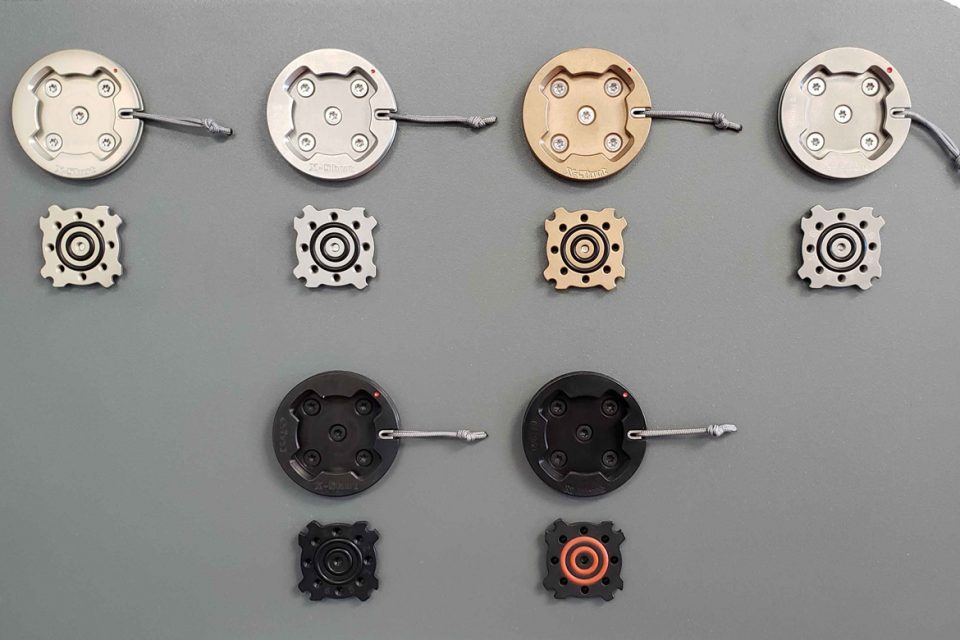 SSK & X-Shut Partner
SSK becomes a sales and support point for the lineup of X-Shut attachment systems and accessories manufactured by MS Safety GmbH located in Germany. SSK and MS Safety co-develop a Military HAHO-specific GPS guidance tool called ParaTrack, a device that uses X-Shut hardware to provide a completely customizable solution.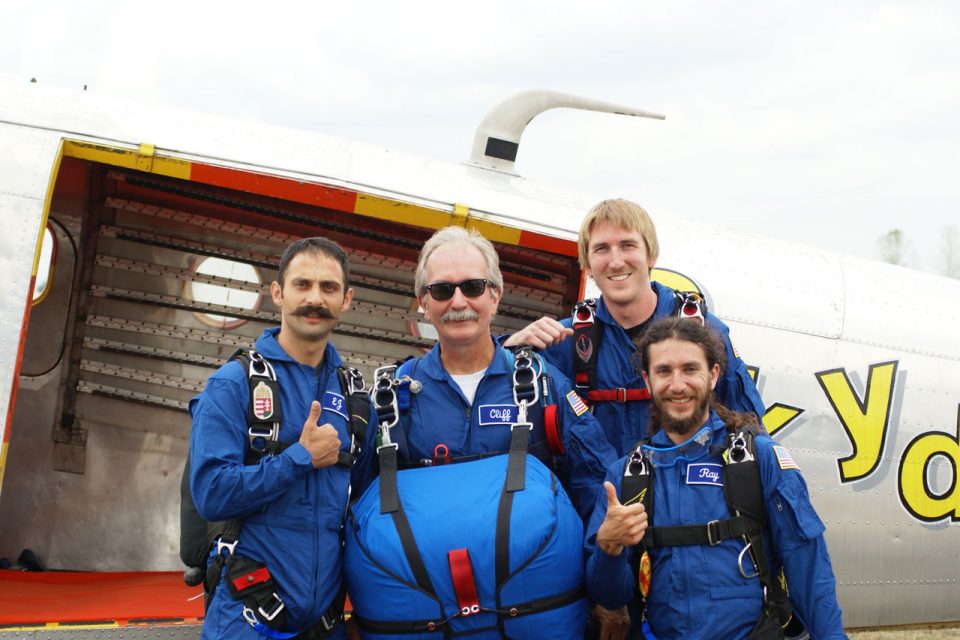 Carrying the Torch
In May, Cliff Schmucker passes away from a tragic skydiving accident. His sons, Adam and Nathan, become co-owners of the enterprise. Adam – a DZ rat who grew to be an accomplished skydiver – draws on his marketing and entrepreneurship degrees as well as his experience working with his dad on major SSK initiatives, and takes on the role as president. Nathan continues to lead the PARASIM side of the business.  Photo: Cliff and Adam preparing for a demo jump.
2016
Sponsored Athletes
SSK begins sponsoring some of the world's most elite skydivers, each committed to pushing limits, enthusiastic about breaking records, and passionate about passing knowledge to newer jumpers in the sport.
2017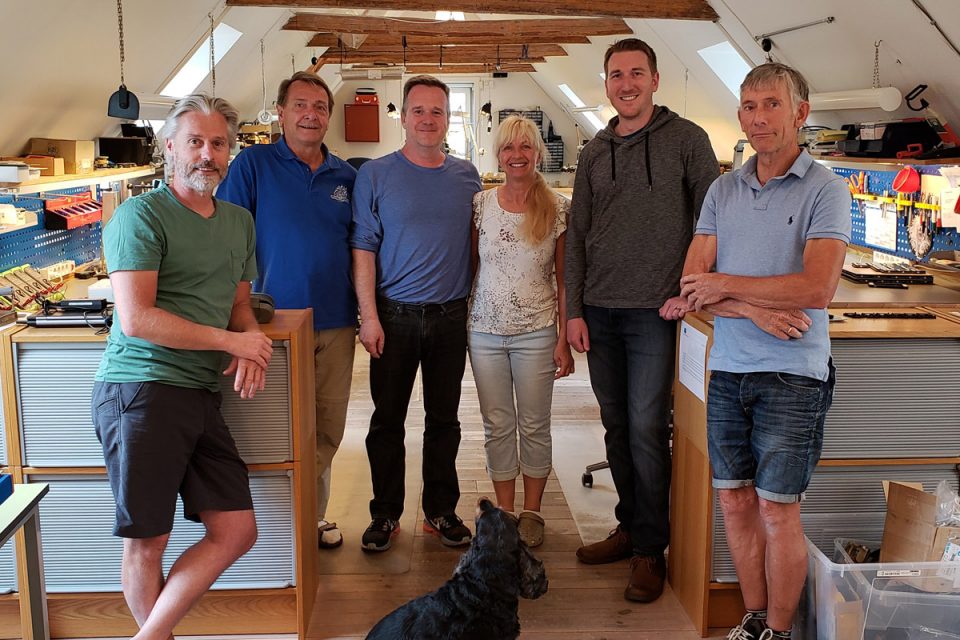 SSK is LB Service Center
SSK becomes the LB Altimeter Service Center for all countries located outside of Europe. Maintenance and test equipment is located in an area separate from CYPRES testing.  Photo: Adam and the LB crew.
2023
LB Transitions to In-House Service Center
LB Altimeters transitions to an in-house service center in Houston. SSK takes great pride in having served as LB Altimeters' US-based service center for the past six years.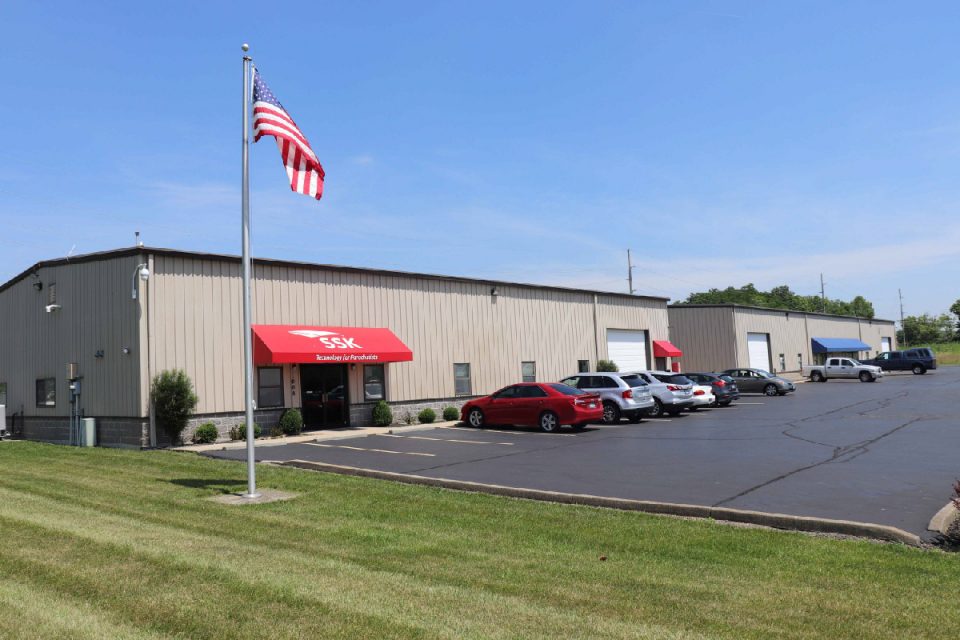 SSK Today
Skydivers are keeping their eyes on blue skies and won't even let a global pandemic clip their wings. And, as always, SSK has their back. Company leadership is passionate and focused, and the enterprise remains strong.
Adam Schmucker continues to lead the organization into an intentional future. He is an active member of Parachute Industry Association and is the Marketing Committee chairman. Adam also serves as a trustee for the International Skydiving Museum and Hall of Fame.
SSK is proud to partner with the world's most essential skydiving brands, and to play a major role in the distribution and maintenance of unparalleled skydiving tech. Together, we are making positive change, breaking boundaries, and furthering the industry.