Curt bartholemew: The Roadmap OF a champion
Sponsored Athlete Highlight
Posted by: SSK Industries 2 years ago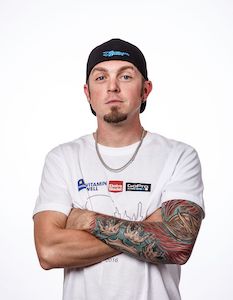 Curt Bartholemew has had his eyes on the sky since he was knee-high to a grasshopper. His initial goal was to be a fighter pilot, but a vision impairment made it impossible and – as he continues to push the envelope beyond what's previously been possible – it seems it was for the best. Today, Curt is one of the most decorated canopy pilots in the world. He's won everything, at least once. And he's nowhere near done yet.
We are thrilled to include Curt as part of the SSK family of sponsored athletes, and appreciative for the time he spared to tell us all about how he got to the top of the game. As we learned during our chat, Curt does. not. stop.
(Young) Man On A Mission
As a kid growing up in the Philly suburbs, Curt did it all. School work came easy to him as a result of his near-photographic memory, leaving plenty of time for extracurriculars. With his Dad as his coach, he played football, basketball and baseball, and ran track from high school through college.
Curt was fascinated by history even as an elementary schooler, with ancient Egypt and WWII holding his attention throughout his formative years. Aviation won out and, like the WWII fighter pilots he so admired, he aspired to be legendary airman. At 18 – with nearly 30 pilot hours already in his pocket – he headed for Daytona Beach to bring his vision to life at Embry–Riddle Aeronautical University.
Plan A was quickly eclipsed when his brief time in the ROTC made it clear that his red-green color deficiency disqualified Curt for service. Plan B was to become a corporate pilot but, 200 hours in, the culture across the industry caused his passion to wane. He pivoted to Plan C: Air Traffic Control. After four years, he graduated with a degree in Aeronautics and minors in Air Traffic Management and Aviation Business Administration.
New Lease On Flight
Between Plan B and Plan C, Curt discovered skydiving. He'd gone home to train under his high school flight instructor for a couple of weeks, but instead he was paired with a different pilot – a jump pilot. He earned the endorsement he'd come back for, and grew enormous respect for the skydivers he met while his teacher was running loads in the Piper Cub. Curt wanted in.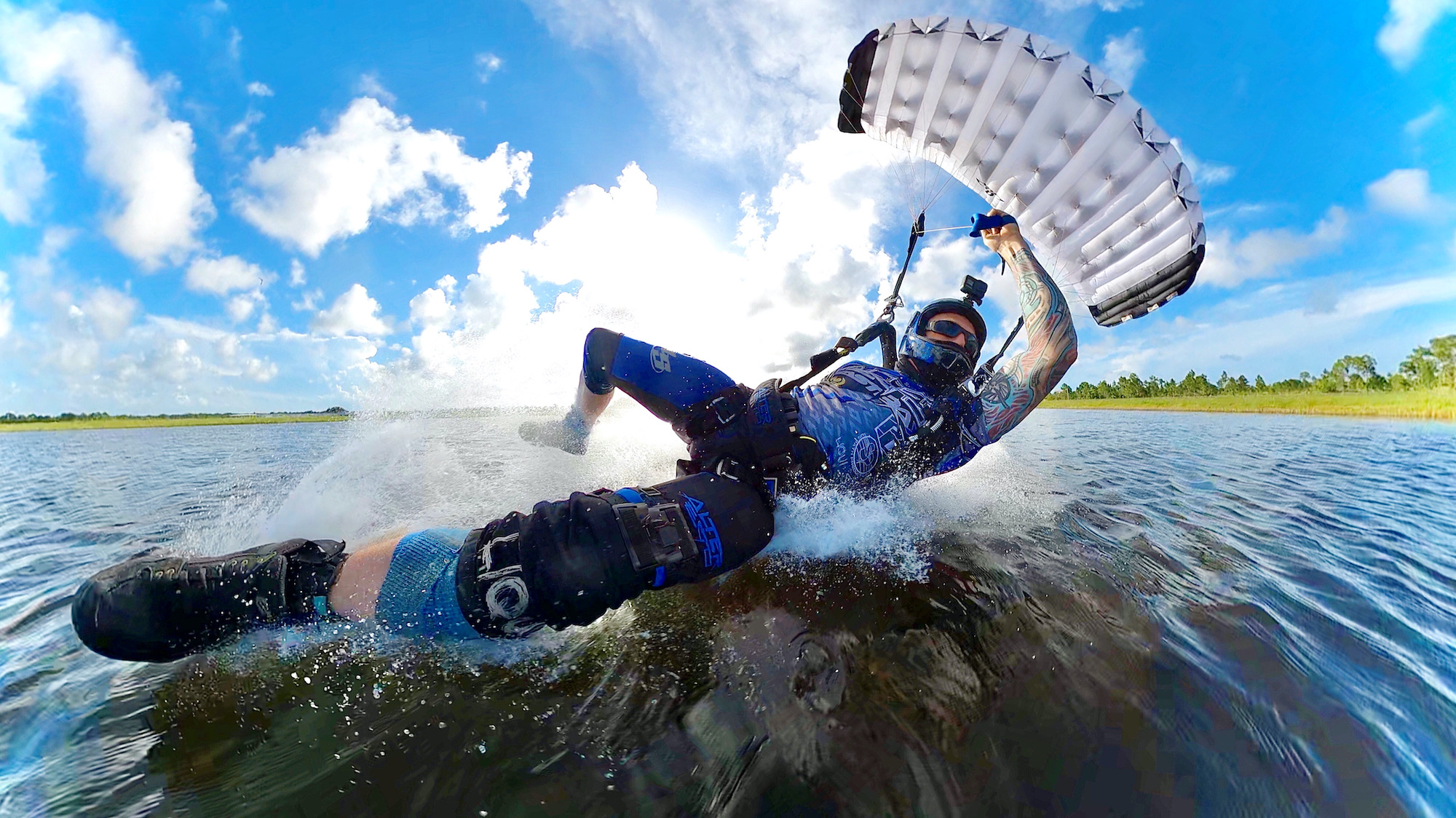 Without making a single tandem, Curt signed up for AFF. Before even jump one, skydiving brought his competitive side to the surface. His goal was to complete AFF in one day, but when his exhaustion got the better of him, he had to settle for sign off the next morning.
He extended his trip and logged 50 jumps within three weeks.
All In
As soon as he returned to school, Curt joined the Skydiving Club. He created a class schedule that would allow him to sneak a bunch of hop and pops in during the week (and still make it to track on time-ish), and to make regular jumps all weekend.
Bouncing between DeLand, Titusville and Sebastian, Curt ultimately befriended Adrian Hart, a more advanced skydiver who had swoop and freefly chops and a generous spirit. Adrian willingly shared his knowledge with Curt, but he was only available on the weekends. So, Curt developed his own drills … which he ran over and over and over again.
He was hungry for growth and improvement and soaked everything up like a sponge. He even went so far as to eavesdrop as freeflyers and swoopers talked shop in the hangar, and snagged a moment of conversation with the PD Factory guys when they had one to spare.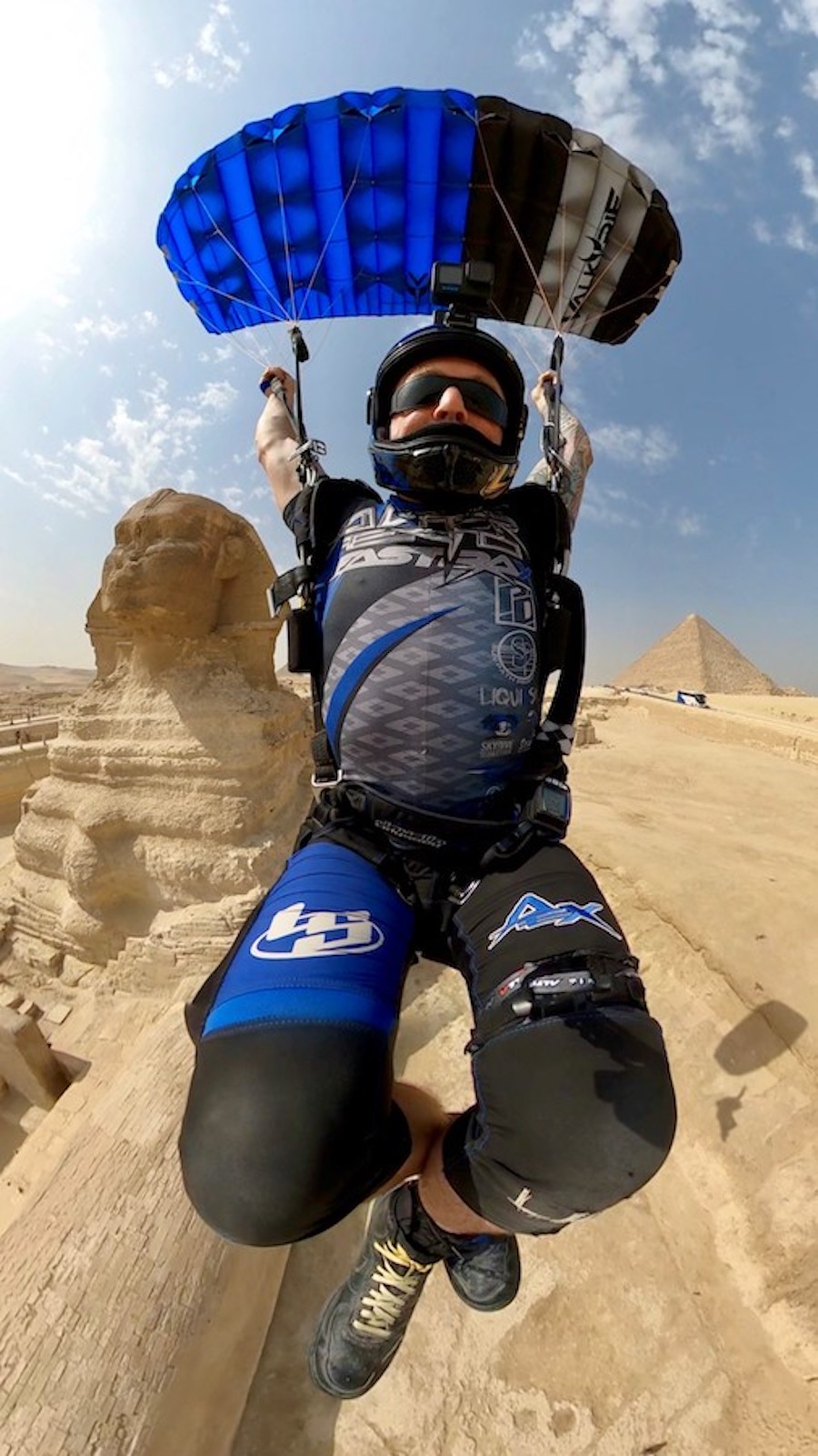 Game On
Just a year and a half after his first jump, Curt was Vice President of the Embry-Riddle Skydiving Club and had nearly 1000 jumps. Both seniors, the Club President pitched a wild idea that Curt immediately bought into: entering into the 2007 Collegiate Nationals in Eloy. They made a 2 Way Free Fly team, did a total of five training jumps, and then threw caution to the wind and went for it.
Ignorance and raw talent won the day, and the newly-formed team came in second. They beat renowned teams that had trained together for four years, and even the Air Force Academy team that had had two years in the sky and in the tunnel as a unit.
It was on …
Won't Wait In Vain
Having achieved a near-perfect score on his AT-SA (Air Traffic Skills Assessment), Curt had lofty goals for his career in air traffic control. But the middle-of-nowhere location for his first 18-month assignment was a definite no-go and he elected to spend the year skydiving until he was eligible to reapply for a new post.
He tried a little bit of everything – some smart choices and some not so wise – in effort to up his swoop game. He jumped a Crossfire and Stiletto … flew crosswind, downwind and rolled out super low. He was labeled a liability and grounded as punishment for his cavalier behavior. 
But the truth was, Curt wasn't being defiant; he just didn't know better. All he wanted was for someone to help him progress. Instead, folks threw their hands up and declared they wouldn't get involved because "the inevitable accident" he would cause would be deemed their fault. Finally Pine, a DZ staff member, took Curt aside and shared pearly words that changed everything, "We get it. You want to be a swooper. But don't go downwind or crosswind."
Nearly a dozen years later, Curt appreciates the concern everyone expressed. He needed to be more deliberate in selecting his gear, and he definitely needed to quit going downwind.
Progression
It all started to click when Curt jumped with a 90 Velocity. He trained without stop – determined to prove those who said he needed 10 years of experience to be a veritable competitor. He jumped every wing size at least 500 times before downsizing, and never skipped a size. In fact, while jumping Icarus, you could say Curt went down two-thirds of a size at a time.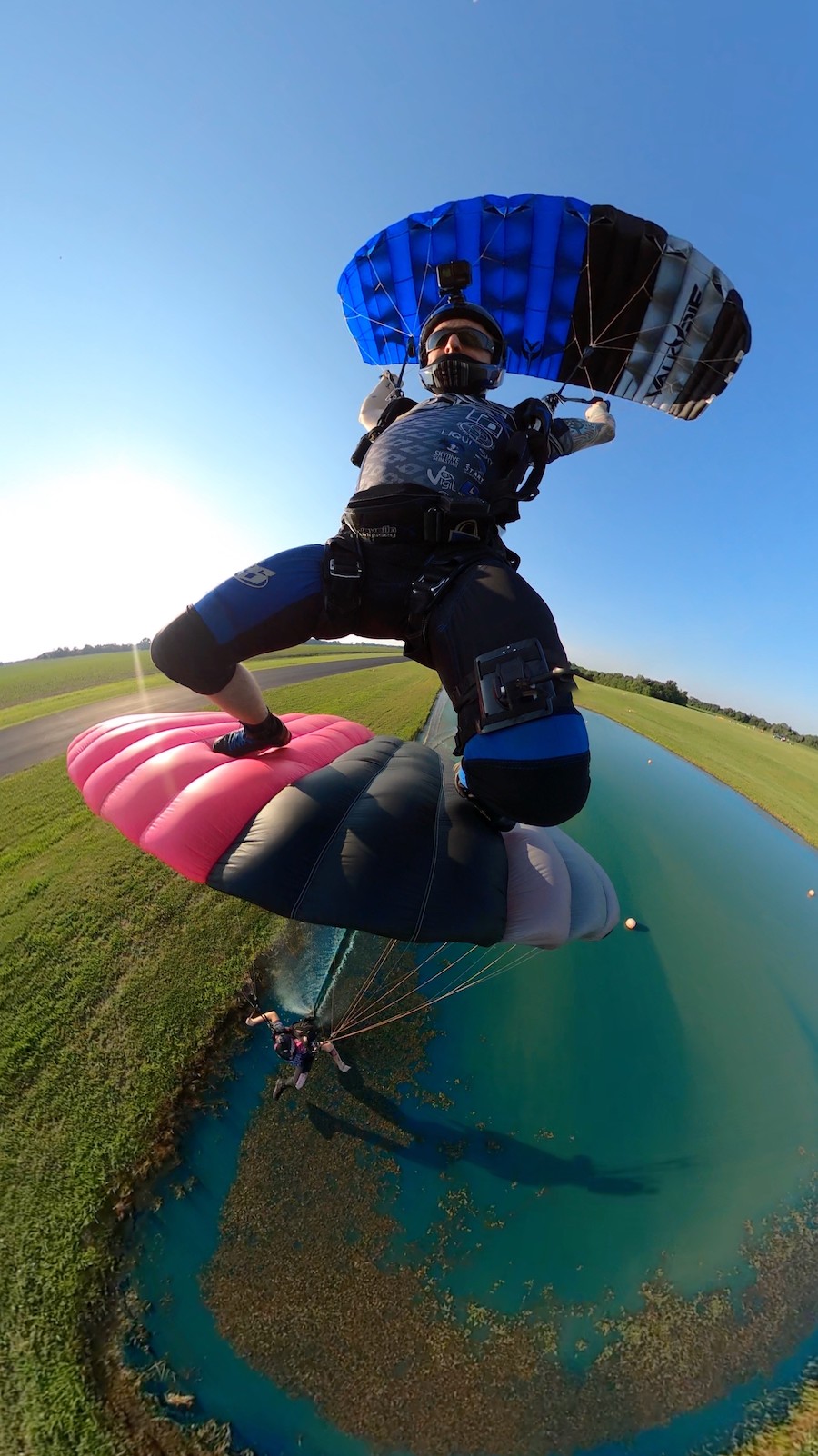 As his first comp season approached, Curt didn't let his lack of access to a pond stop him from training and he practiced zone accuracy in the grass … and then broke his hand … which didn't stop him either. Despite rebreaking his hand again and again, he came in the top 10 for his first competition; in the second, he got 5th place; third, he took 1st; fourth, he tied for 1st with former Golden Knight Greg Windmiller.
And Curt hasn't looked back.
Skyrocket In Flight
After that first season, Curt's competition career picked up mega speed. He signed up for the 2009 Canopy Piloting Circuit and won – by a lot – to the surprise of all because no one knew who he was. 
Next, with his Pro Swoop Card in hand, he entered as an Open Class competitor at the 2009 Nationals alongside hero JC Colclasure and contemporaries Marat "Maha" Leiras and Ryan Brownlow. Though it was near impossible, he desperately wanted to place in the top 8 and make the US Team on his first attempt. He came in 6th. And so marked the end of his air traffic control career!
When asked when he realized he was on top, Curt replies, "Only recently!" – this, despite the Egyption tomb's worth of medals, trophies and awards behind him at his home office. By the numbers, we're talking: 136 total competitions with 106 overall podium finishes; 66 overall wins, of which six are World Champion wins; and 159 total medals, of which 103 are gold. The man is a beast.
Ultimate Accomplishment
Perhaps Curt's proudest achievement is his founding of Team Alter Ego: Fastrax and The Alter Ego Project Canopy School. First established with Micah Couch, Jake Carlow, and Curt's now-wife, Jeannie Bartholemew, the Alter Ego enterprise has grown to encompass six team members and 15 instructors who deliver 11 courses at DZs all over the world. And now Curt does the singular thing he loves best – compete – and provides to others exactly what he lacked coming up: coaching and mentorship. Together, Team Alter Ego has earned nine World Championship titles in 11 seasons. Boom.
You might think Curt's on the verge of burn out after going so hard for so long. But no. He still loves his discipline and talks about it with sincere elation:
"It's pure aviation. It's the dog fight I dreamed of as a kid! The bottom of the recovery arc will forever be the best place on earth. I still get nervous every roll out, but you take that energy – that same energy that could lead to disaster – and turn it into something awesome. It's true power."
Still Climbing
Curt knows there are eyes everywhere watching where he goes from here. Just as he kept tabs on every movement of Team Extreme and PD Factory when he was new on the scene. He's mindful to keep the pressure in perspective, respectfully walking in the footsteps of big shoes while not getting too big for his boots. He shared, "Even now – every time – as soon as I land, I know I can do better the next time."
Curt looks to his teammates and other elite athletes in the field in order to keep growing. He surrounds himself with people like him, i.e. driven by passion. He wants to be pushed and challenged because there's still a long way to go:
"Swooping is a messed up mix of aerodynamics and physics. I have formal education in both and over 10,000 jumps, and I still don't fully understand it. So many angles and axes, and then we're hanging under the wing. It's fun to dissect it all – and even more fun to figure out as a community."
—-
We're proud to be part of your community, Curt! And we'll be cheering you on as you continue to work toward achieving your goals of earning the most World Titles ever in our sport at eight World Titles and setting World Records in both the Speed and Distance events. We have no doubt you will get there. Blue skies, brother!
You May Be Interested In: