Everyone's Journey Is Different
Sponsored Athlete Highlight
Posted by: SSK Industries 2 years ago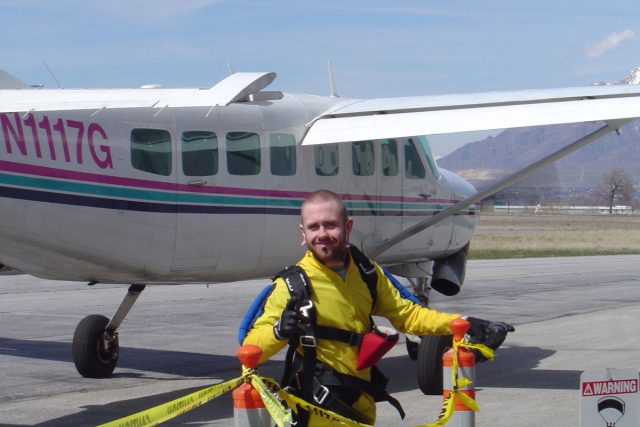 With more than 9,000 jumps, 100 tunnel hours, and 10+ years working as a full-time videographer, Nicholas Lott is an undeniably sick skydiver. His mad flying skills – and his big love for CYPRES & LB – make him the perfect addition to the SSK family, but that's not all.
Nick is one of those humans who catches you off guard and then holds your attention. Tattooed and pierced, his look is no-doubt striking … but it's his infinite curiosity, extraordinary talent and big-hearted humility that makes him especially memorable.
At SSK, we dig different ways of thinking, and we celebrate big ideas. It's written into our history, and it calls us into the future. Check out Nick's story, and you'll see why we're a great match –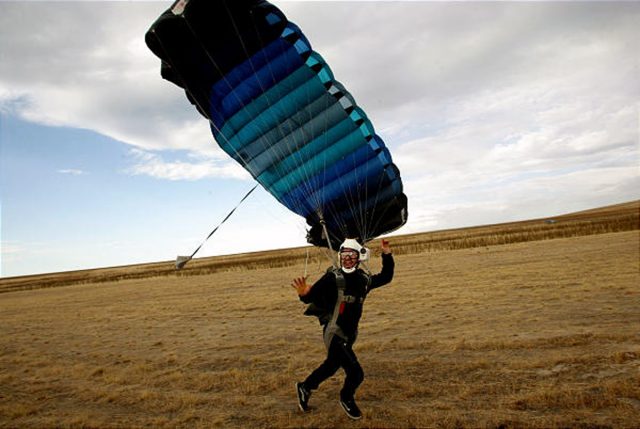 Eye On The Prize
The youngest of three, Nick started blazing his own trail from the giddy up. He was enraptured by the act of self-adornment and at age six convinced his mom to let him get his ears pierced – a bold look for a Utah boy. Good grades won him additional piercings, and by 7th grade he started stretching his lobes.
It wasn't a phase. At age 13, he set his sights on a career in body piercing and – having left home at age 15 – was a professional apprentice by age 16.
Fresh outta high school, Nick and some pals-turned-partners opened Iris Body Piercing near downtown Salt Lake. To celebrate their first year in business and for Nick to shake off some break-up blues, they booked a tandem at Skydive Ogden and … well, we all know what happened after that.
Sometimes You Just Know
Prior to his first tandem, Nick thought he had the best job in the world.
His tandem instructor was Dusty Hanks, now an indoor skydiving phenom and head of iFly Utah. Dusty's happy-go-lucky approach and genuine love for the sport made a major impact on Nick. Skydiving wasn't just for special occasions, it was something you could just do.
Nick distinctly remembers seeing his shoes at the door; lake on one side, mountains on the other. He knew his life would change as soon as he felt freefall firsthand.
"I didn't set a conscious goal to make skydiving my living, but I knew the world I was jumping into was beyond anything I'd imagined. You know when you just know a thing?"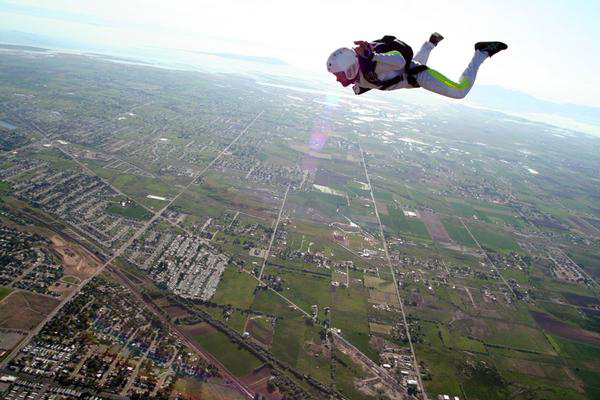 High As A Kite
The look on Nick's face said it all. The cocktail his brain had bathed in gave him an unfathomable high.
He did his second tandem that same day and, on landing, signed up for AFF. But it was April in Utah, so he had to wait for a class to come together. When it was over … it was on.
He took out a loan and maxed out his credit to get him through the program and to his first rig. It was a heavily used Vector and it was his pride and joy. He sold his belongings for cameras and gear – a Cannon SLR, Sony HC40, and a camera helmet – even though jumping with them was a long way off.
100 Jump Wonder
About 100 jumps in, Nick realized that there was more to his new hobby than just going up and coming down. He began to appreciate skydiving as a sport, and to recognize he was neither taking it seriously nor doing it well. It was doing him good, though. His friendships were deepening and his depression was at bay: his cup was full.
"I was enjoying myself beyond my ability to be unhappy. I didn't even realize I was coming back for the community, but I was. It was time to set some goals."
He acknowledged his status as student, accelerated his growth, filled his logbook, and earned his coveted helmet and gear. Seeing his drive, DZO Suzanne Wallace gave Nick a heads up about an upcoming opening for a camera flyer. He had the jumps, the gear, and he'd make the time.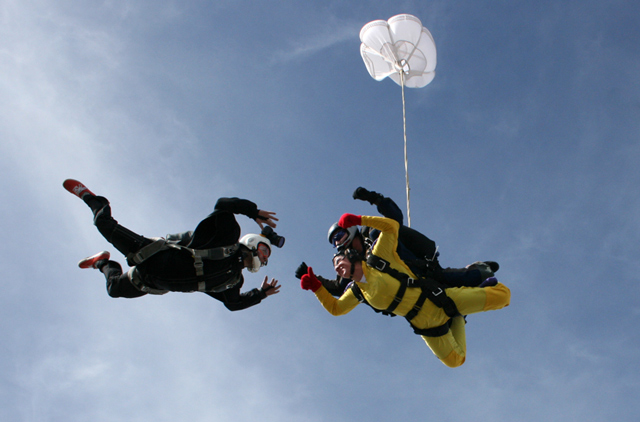 Favorite Thing
It was ingrained in Nick that if you wanted something, you had to work for it. As a result, ever-tenacious Nick loves to work. "It's my favorite thing."
He worked seven days a week – four at the DZ, three at Iris. "When I find a thing that I like, man do I like it."
His business partners were cool with it … until they weren't. They noticed what Nick started noticing too – skydiving was taking over. Watching videos in his downtime, talking about it with customers. He was invited to leave the shop.
His videos were good, but not hella stellar. He had to keep a day job. He pierced elsewhere and worked construction, but his favorite thing was agonizing. Something had to break.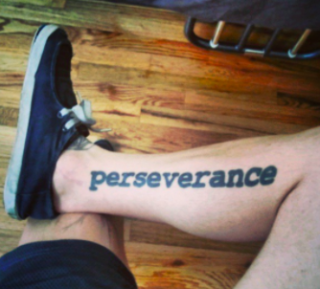 All Signs Say Yes
While visiting ice-cold Ogden in January 2012, Nick's pal and fellow Utahan Stephen Rosier encouraged him to check out his home DZ, Skydive Spaceland Houston. Another had previously advised the same and had even offered Nick a place to stay. And then, Jason Hyder offered him a job.
Houston was calling.
Nick had already, unconsciously established a pattern of choosing a new challenge in face of adversity … and he had no reason not to go. He committed to three months. Nine years later, he's still there.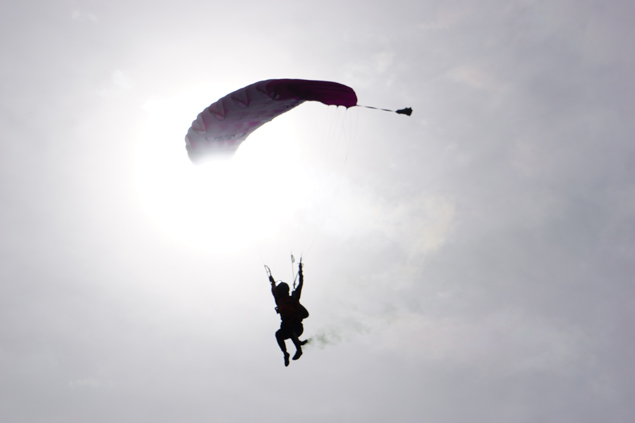 A Natural
Initially, Nick was another good videographer but before long he was recognized as an outstanding camera flyer. He started getting cherry-picked for special projects.
Nick's first stand-out production was created as a favor and paid for in trade. It was a promo video for the first FAI-sanctioned competition for indoor skydiving, and it was a big deal. It required storyboarding, a ton of footage, scripted voiceover work, and precise editing. He nailed it. What's more, he was proud.
His obsession with video had come about by happy accident. He'd bought editing software instead of a file conversion app because he wanted to put his own video on a brand new platform called "YouTube". Over the years, he'd cultivated his raw talent with only his intuition and sincere curiosity as his guide. And it had paid off.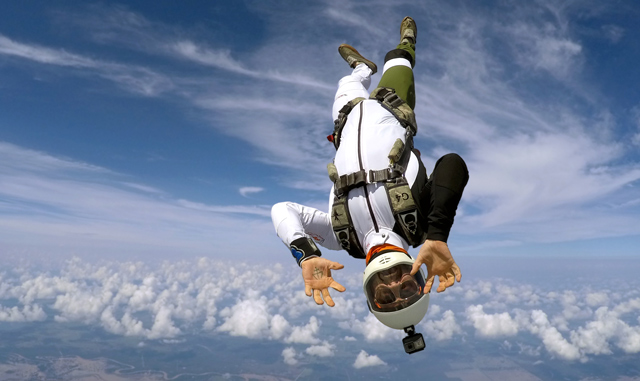 Point of View
Steve Boyd, Jr., DZM of the Spaceland enterprise, knew what Nick was up to and had an idea. He asked Nick to interview some military buddies who hadn't jumped together in 25 years. The end result was awesome: Skydiving & Friendship.
The 2016 day he uploaded the edit, Nick debuted what has become his signature style. Nick lets his pieces breathe. Every narrative unfolds naturally, clearly benefiting from the time and generous attention he gives to each subject. The trust Nick and his interviewees share empowers their courage and vulnerability, permits quiet and emotion, and emboldens release and reclamation.
Five years later, Nick has showcased the incredible stories of people who have learned Lessons from Loss, celebrated an Ampuversary, redefined their life, hit career milestones, proved that Can't Never Did Anything, and so many more.
His secret sauce? Listening. When you believe everyone's journey is different and that every story is worthy and important, magic happens. He values the dialogue he's privileged to engage in and grows as a result, one by one.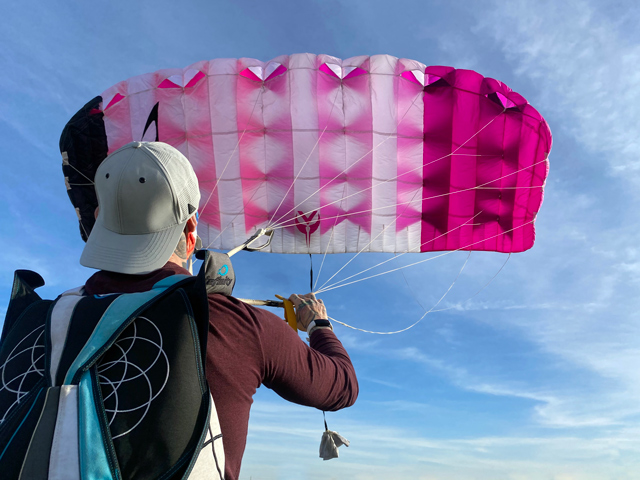 Masterful Marketer
Without cutting a clear path to it, Nick earned the title of Director of Video Marketing and successfully made a name for himself across the broader field.
The positive response to his storytelling work fortified his confidence, and he let his sense of humor fly. He started to deliver funny and often mega-clever promo videos, like the Gravity Lab Radio Film Festival 2020 Promo, Flipping the Switch, Describe the Fun of Skydiving to Someone Else, You Love Mom & So Do We, and Skydiving Celebrations to Come.
Despite the love and big props, Nick doesn't see himself as an artist. By his definition, he's a technician. From where we sit, we say go with the label that suits you best, brother. Just. Don't. Stop.
The Road Ahead
In February 2020, Nick was promoted to DZM of Spaceland Houston – in hindsight, a crazy time to take the reins.
Truth be told, he was hesitant to take the leap. But his insider knowledge of most every job on the DZ coupled with votes of confidence in his leadership made him own the position and win the day.
With the DZ finally humming again, he's everywhere he's needed – whether that's cleaning floors or taking care of customers. He still believes he has the best job on the planet, and he's ready to party in the sky like it's 2019.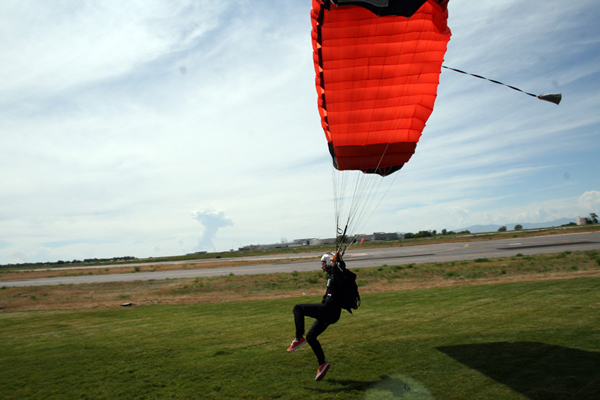 Sharing the Love
Looking back, Nick knows he wouldn't have gotten here without several champions at his back. Chief among them is his dad, who he could always call and voice his thoughts without judgment. Since his Dad's passing his older brother serves as his sounding board.
Within the industry, Nick looks up to giants like Steve Boyd, Jr. who may forever influence Nick's decision making about the next right thing. Dan BC's knowledge and experience will always serve as an inspiration, as will the determination and growth in Jesse "Tex" Leos.
Most recently, Nick asked Billy Whitaker to be an active mentor, to which he happily said yes.
Looking Forward
Nick has done a lot of living in his so-far 35 years, and he's got solid words of wisdom to show for it among other treasures, including:
Be at least as good at flying as the people you film.
Unless you're jumping to learn, don't get big for your britches. Be additive every time.
Be mindful of your energy.
If something brings out the best or worst in you (in Nick's case exercise and competition, respectively) pay attention. Be intentional about how you spend all of your time.
Lean in to moments of growth.
Listen to the good, the bad and the ugly. Take in what serves you, including permission to believe what your loved ones tell you.
Jump more. Do more. Be more.
Say yes more. "When I first got going, I'd have done anything to be where I am now. And I feel like I'm just getting started."
There are countless ways to leave a legacy in our sport, big and small. And lucky for us, we have a ton of fun doing it.
—
Look for Nick at Skydive Spaceland Houston, and listen for him on Gravity Lab Radio where he hosts a killer podcast alongside DJ Marvin and the illest skydivers in the world. We love having you in the SSK fold, Nick. Blue skies, buddy!
You May Be Interested In: